Tomorrow

Tuesday

Wednesday

Thursday

October 7, 2023

October 8, 2023

October 9, 2023

October 10, 2023

October 11, 2023
View Calendar
Announcements
Scio Central School today is Tuesday, September 26th, 2023.

Juniors and Seniors attending the Houghton College Fair today- please meet Mrs. Hardy in the annex by Mr. Pavlock's room at 8:40.

Fall athletes are reminded that soccer pictures are Wednesday after school.  Your coach has envelopes if you are ordering pictures.  All pictures will be taken out on the soccer field.

Tomorrow is BBQ dads vs soccer moms, show your school spirit.

Attention high school students don't forget to get your homecoming tickets today during lunch.

If you plan to attend the fire at Friendship on Friday please sign up outside Ms. Yeager's door today. If you are not on the list you will not be able to attend.

Lunch today will be loaded chicken burritos, steamed corn, assorted fruit and milk.
Hey, SCIO HIGH SCHOOL fan!SPIRIT. Stop reading and start shopping to score the latest fan wear and accessories. Then get out there and cheer on your team. Check us out on social to learn more. Go SCIO HIGH SCHOOL! http://sideline.bsnsports.com/schools/new_york/scio/scio-central-high-school

Head's up! Your NEW 24/7 SCIO HIGH SCHOOL Sideline Store is officially up and running. To celebrate, we're offering fans an epic, month-long promotion--25% OFF sitewide when you use code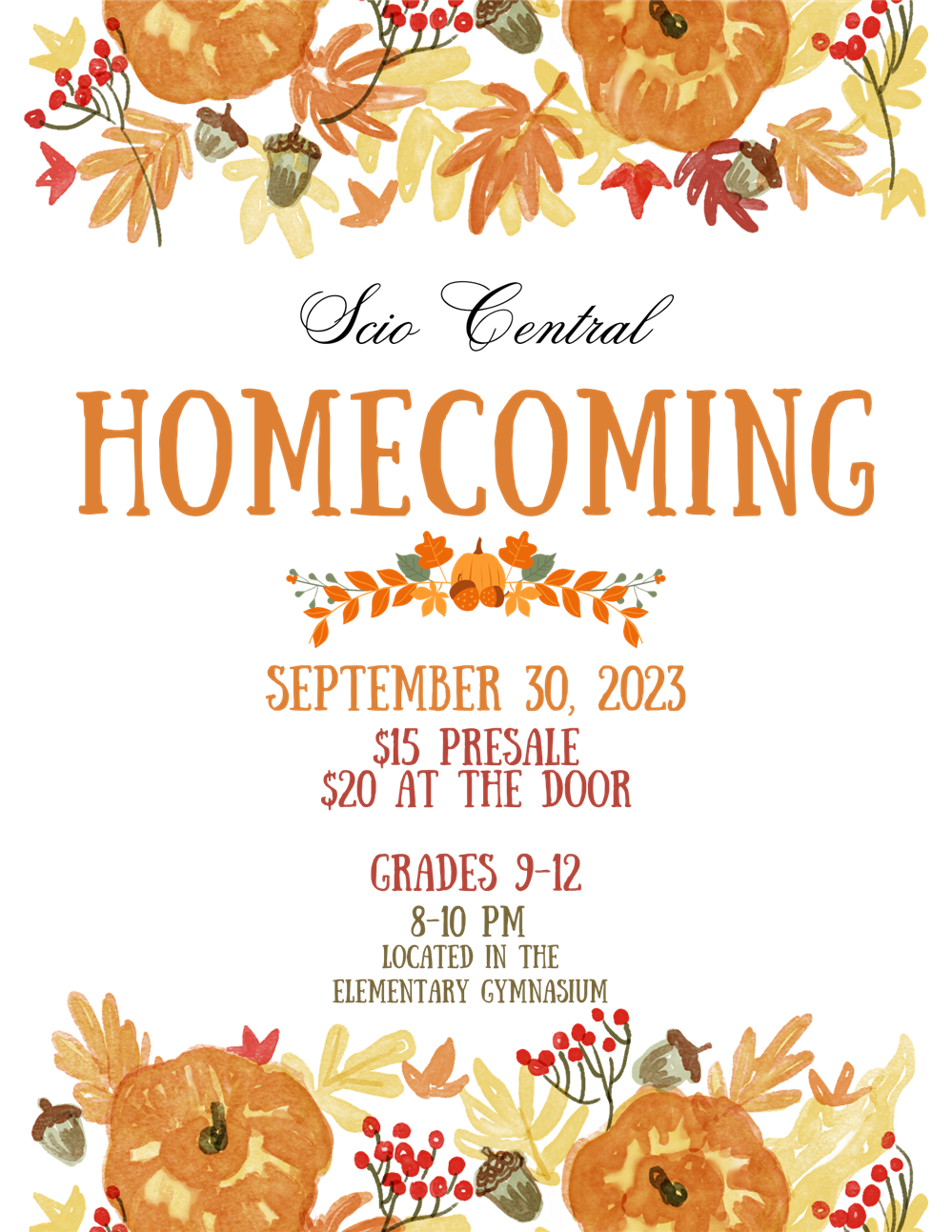 Students in Grades 6-8 Will Have the Opportunity to Participate in an Upcoming Presentation from Duncan Kirkwood on October 19th.

His Message Will Focus on Social Media vs. Self-confidence. We Are Excited to Welcome Him Back to Work with Our Students!

https://topyouthspeakers.com/speakers-topics/duncan-kirkwood